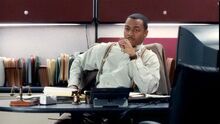 Chuck was a fellow ADA to Linda Davis and Josh Hardaway.
Chuck runs into Linda, who he discovers is falsifying Candace's file to deliberately get her sent to prison and away from Josh, a practice in which she has been engaged with other defendants as well, including Madea and Candace's friend Donna, causing Chuck to realize that that was why Linda had such a successful conviction rate. Linda tells him to keep his mouth shut or she'll tell the head A.D.A. that Chuck cheated on his bar exam to get his job. 
However, at Josh's wedding, Chuck, who is serving as best man, decides to tell him that Linda falsified Candace's file to get her sent to prison and away from him, which leads to Josh telling the entire congregation, including his and Linda's boss, what Linda had done, and jilts her at the altar. Linda realizes that it was Chuck, who looks smug and satisfied.
It is unknown if Linda carried out her threat on Chuck in revenge for telling Josh, or if he is even still an ADA.