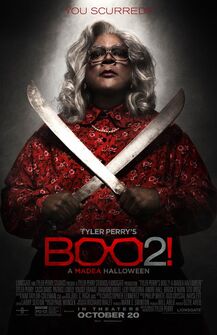 Boo 2! A Madea Halloween is the third holiday-themed movie and the second Madea movie not based on a play. It is also the tenth film in the Madea series, the sequel to Boo! A Madea Halloween. It was released on October 20, 2017 and stars Tyler Perry, Diamond White, Cassi Davis, Patrice Lovely, Inanna Sarkis and Yousef Erakat (better known as FouseyTube).
Tiffany travels to Derrick Lake to celebrate her 18th birthday at a Halloween frat party in the middle of the woods. Frantic and worried, Madea, Aunt Bam and Hattie hop in the car to save her from the same terrible fate that befell a group of teens there years earlier. Chaos soon strikes when the would-be heroes find themselves fighting for their lives against an array of spooky monsters, goblins and boogeymen.
Other Movie Posters
Edit
Ad blocker interference detected!
Wikia is a free-to-use site that makes money from advertising. We have a modified experience for viewers using ad blockers

Wikia is not accessible if you've made further modifications. Remove the custom ad blocker rule(s) and the page will load as expected.